It seemed like forever when Corsair first announced their Vengeance line of gaming peripherals, and I was immediately sold on the M90. After a long, torturous wait, I finally managed to snag one for myself! It's already been quite a while since these hit the market, but due to certain software issues, I could not do a complete review. Now, with a more or less stable release, here's my honest take on the M90 mouse!
Technical Specifications:
5700 DPI Avago Technologies ADNS-9500 LaserStream Gaming Sensor
Adjustable DPI in 100 DPI increments
1000Hz/500Hz/250Hz/125Hz — 1msec/2msec/4msec/8msec response time — user selectable
Tracking rate of up to 165 inches per second, up to 30g acceleration, automatic frame rate control
Adjustable lift distance

Five selectable levels to fit your play style

Surface quality detection
15 programmable buttons
Nine ergonomically placed, side-mounted programmable buttons
Comfortable ergonomic design with soft-touch surfaces and grip improving textures
Omron left and right click switches rated for eight million operations
48KB of on-board memory for storing up to six "on the go" profiles with active profile LED
Aluminum metal frame and base for improved rigidity and mass distribution
Solid metal, weighted scroll wheel with rubberized scroll surface for improved finger traction control and feel
Ultra Low Friction PTFE pads for smooth performance and accurate gliding
USB Connector with gold plated contacts
1.8m lightweight non-tangle cable
FIRST LOOKS AND PACKAGING: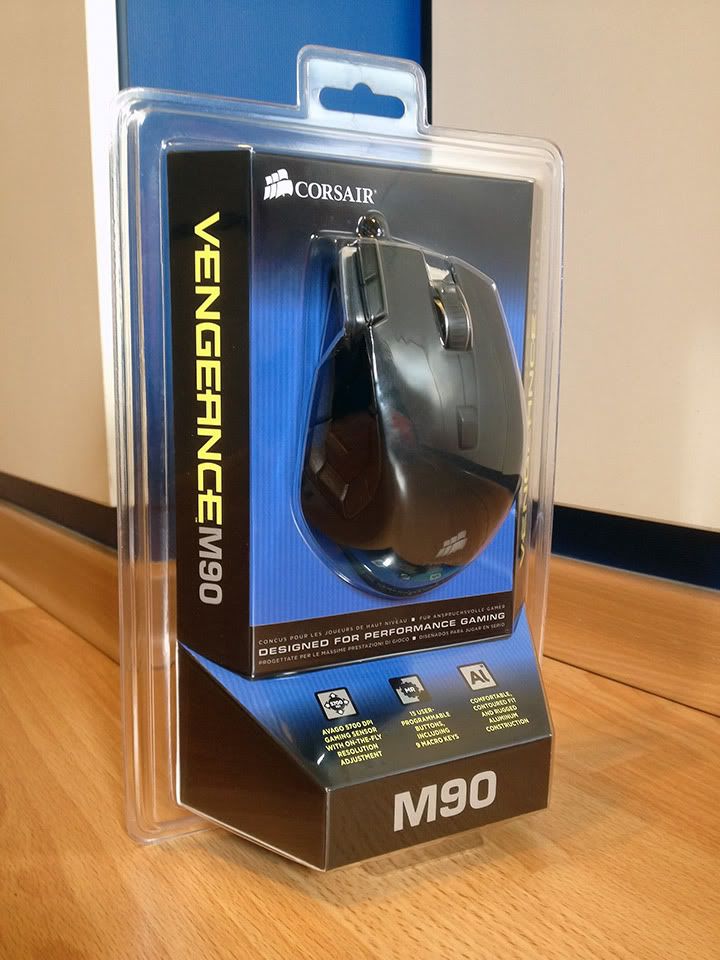 Corsair has opted to pack their Vengeance mice in hard plastic shells rather than in a pretty box. On the one hand, it makes it a tad easier to try out the mouse on your hand and produces less overall waste. On the other, I'm not a fan of this kind of packing as opening them up is usually a messy and destructive affair leaving the packaging wrecked.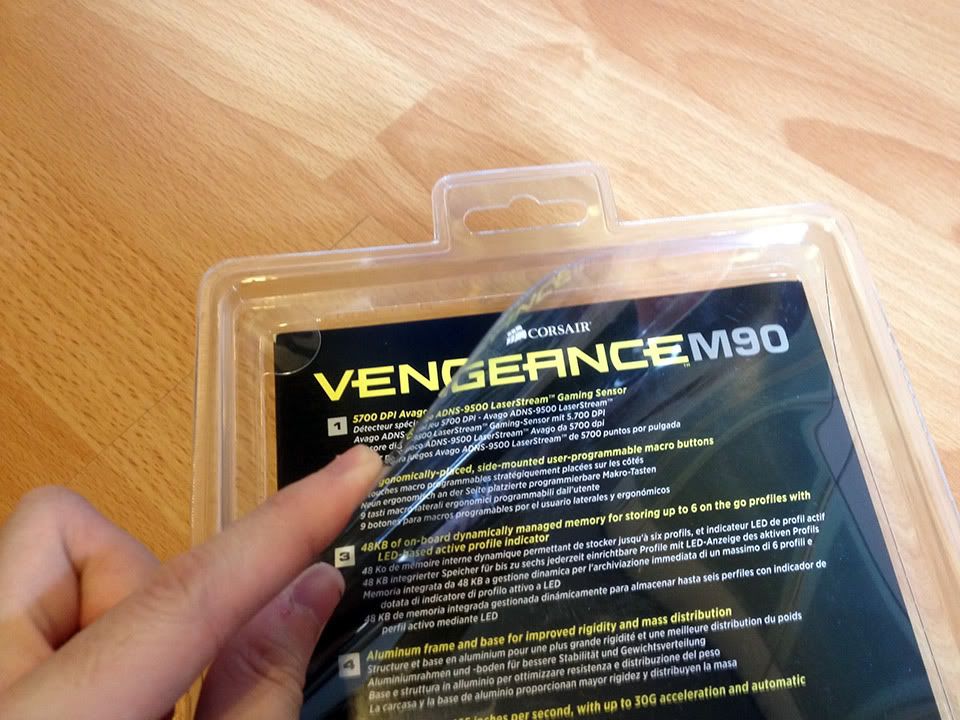 However, Corsair really surprised me by paying so much attention to even the packaging! The back is perforated which peels off with minimal effort. The entire back portion can be peeled off and flipped open, but does not come off completely (it is 'hinged' at the bottom). Not only is it easy to open, it leaves everything inside intact! Real thumbs up to Corsair for this! It's the first time I'm seeing hard plastic shell packaging being retainable and non-destructive to the products inside!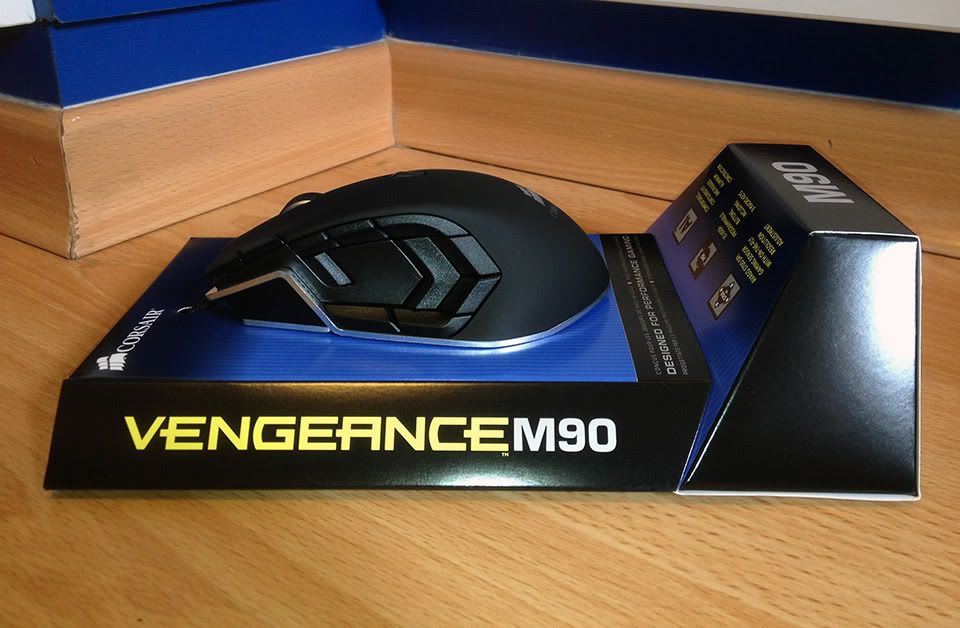 See? Still pretty out of the shell!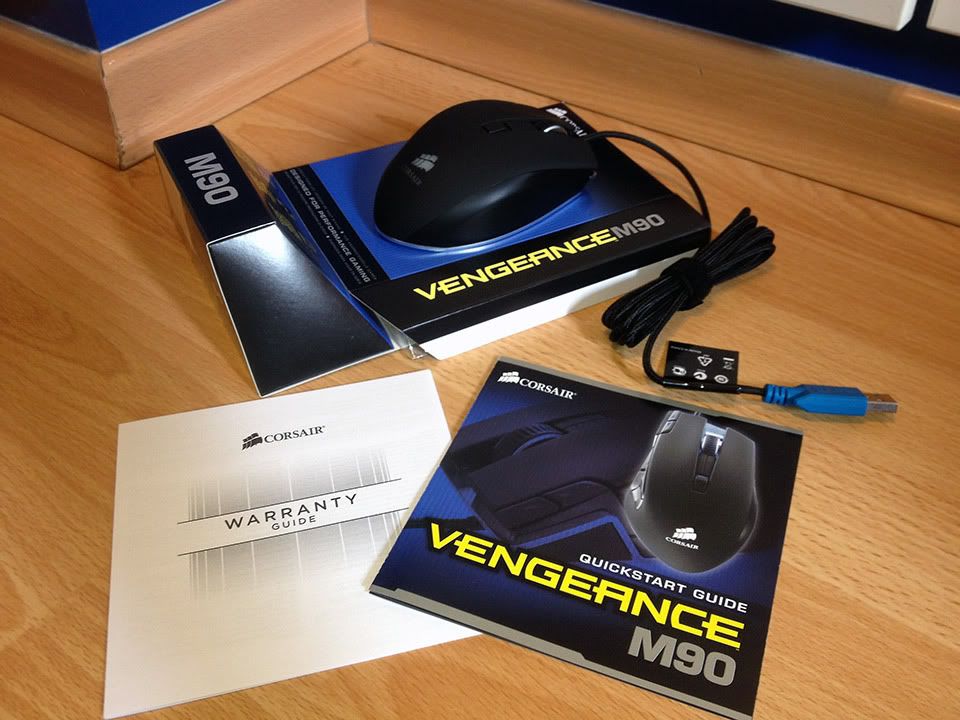 Contents of the package. You get the M90, a Quick Start guide, and a Warranty guide.
A close visual inspection does not reveal any obvious design flaws or shoddy manufacturing. The mouse is beautifully designed and screams first-class quality with its solid single piece aluminum chassis. Not only does it look great, it feels extremely well put together and durable. It makes my Razer Imperator feel cheap even though they are priced similarly! The M90 is also rather heavy; it weighs noticeably heavier than the Imperator; and I would have preferred it if the M90 weighed just slightly less or featured adjustable weights like the M60 does.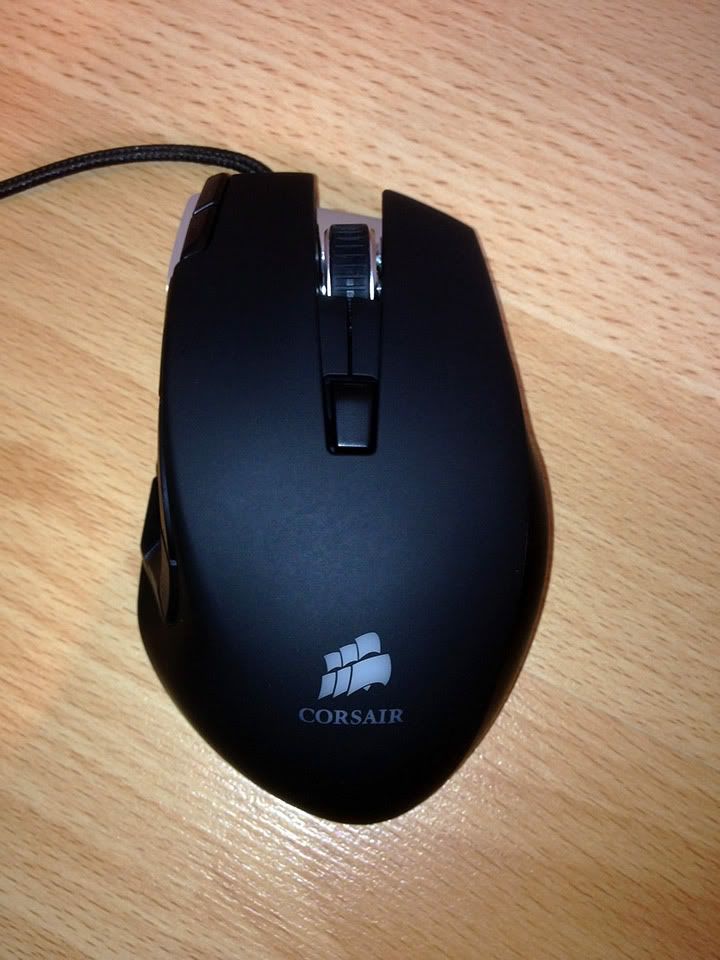 TOP view. The entire top and back of the mouse has a soft, rubbery and smooth texture finish that is extremely pleasant. There are 2 additional buttons on the left mouse button which are by default DPI Up / Down switches, and a middle button behind the scroll wheel.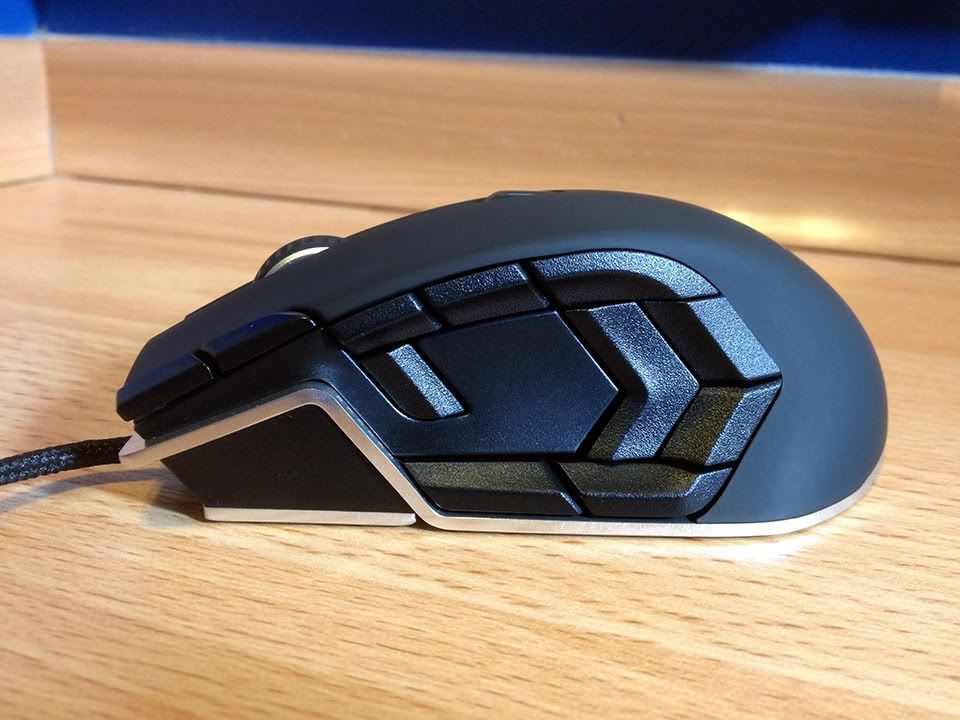 RIGHT view. Here are the 9 'Ergonomically placed' side Macro buttons, and such a design is an applaudable first in innovation! They are fully programmable to Macros or other sorts of functions (More covered in the SOFTWARE section).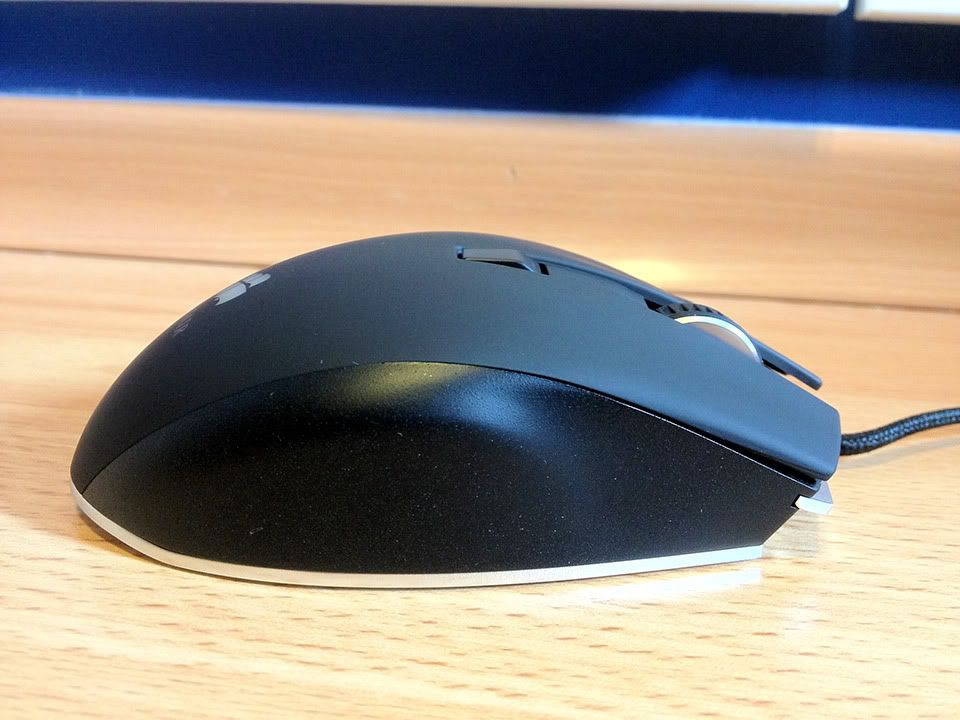 LEFT view. Here is where your ring and pinky fingers rest. Corsair decided to have this portion finished with a ROUGH texture instead of having a uniformly smooth finish as with the top portion. It provides a better overall grip, but I personally would have really preferred the same smooth and rubbery texture as the top.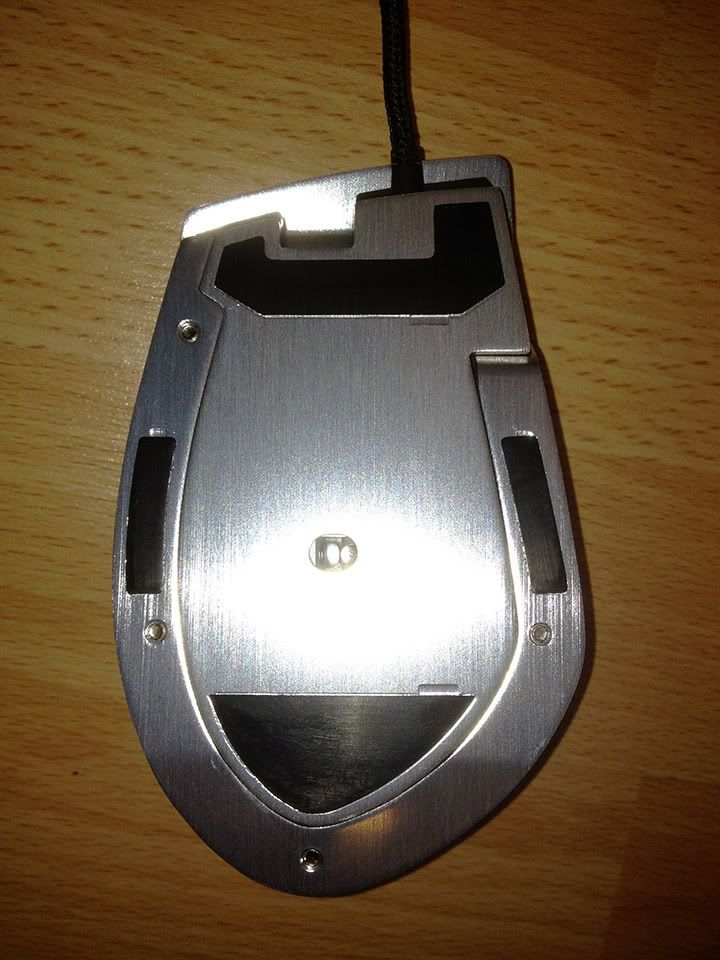 BOTTOM view. You can see the PTFE glide pads (4 in total distributed around the rim of the mouse), and the aluminium finish of the mouse. And of course, there's also the 5700 DPI Avago Technologies ADNS-9500 LaserStream Gaming Sensor. Corsair touts it capable of tracking and reporting the position of the cursor at speeds of up to 165 inches per second, with a mouse acceleration of up to 30G.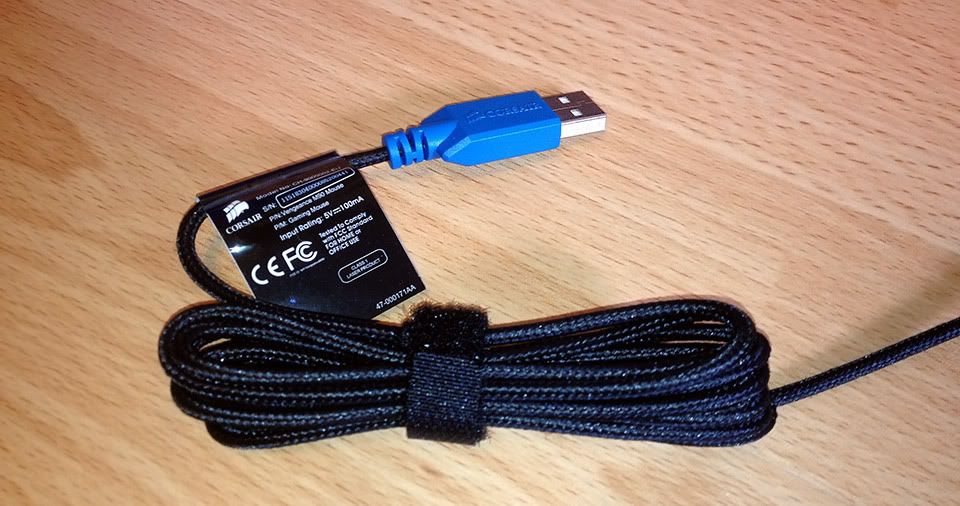 Close up of the braided USB cable. It even comes with a velcro tie for cable management!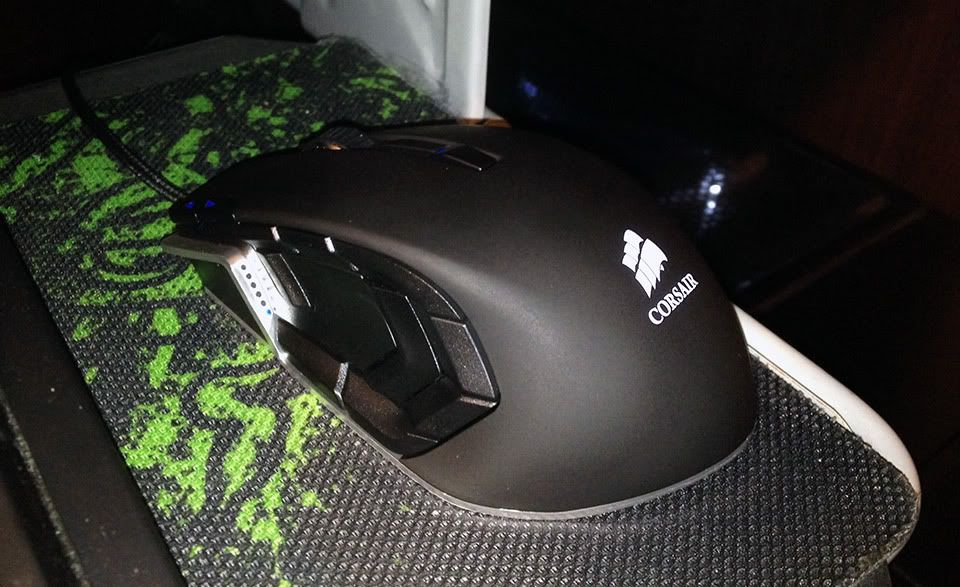 All powered up! The logo at the back lights up white and looks REALLY l33t, while the scroll wheel, top middle button, top left DPI Switch buttons, and Side profile LEDs light up Blue.
The M90 accommodates both a Palm and Claw grip; but it seems to provide the best comfort for a Claw grip due to the way the M90 is contoured along the back: the arch is somewhat slanted slightly. However, each grip poses their own different sets of problems due to the position of the side buttons. More of that below. For a terminology of the side button numbers, here they are: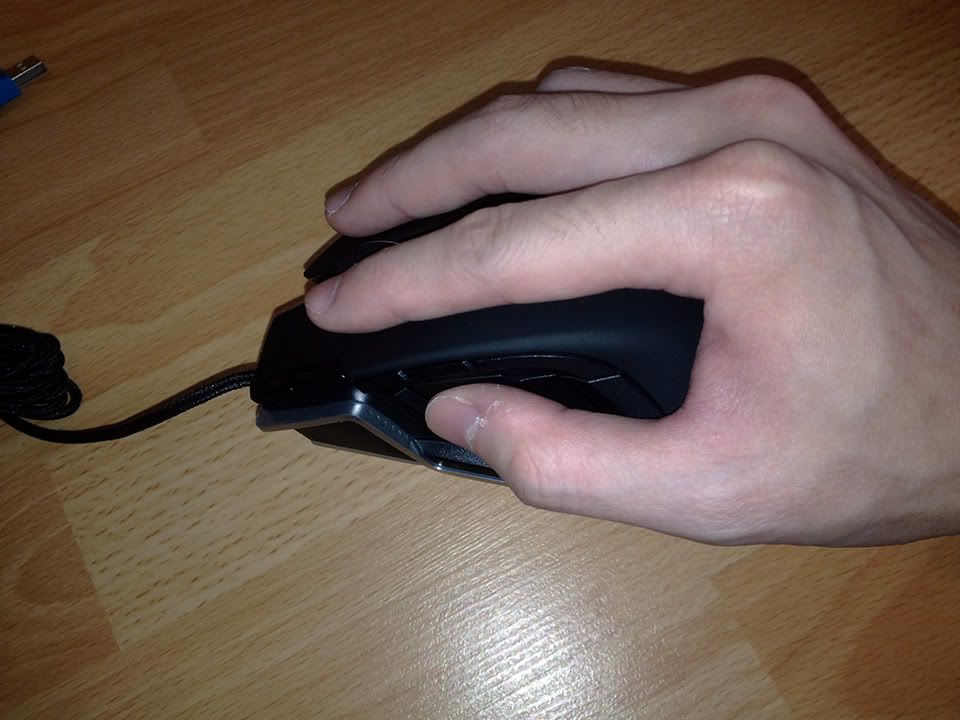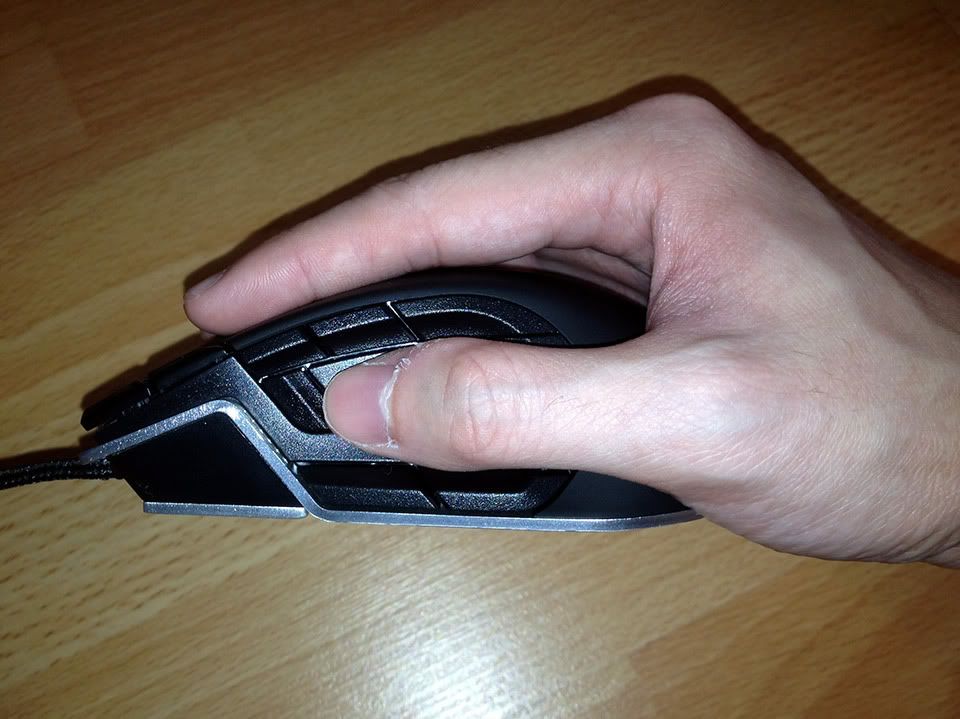 For the most part, the M90 fits my hand size well and is very comfortable. With a Palm grip, you can see that my thumb more or less sits where it "should" be as dictated by the mouse, and I can pretty much reach the forward most buttons and middle buttons easily. However, here's the catch: if your thumb is placed too forward, then pressing the back-most buttons becomes difficult because you would have to lift up your palm slightly and move your thumb backwards. The buttons which I found to not be able to hit easily as a result are 10, 11, and 12. (The 2 back-most buttons and the bottom button immediately adjacent to them) Button 9 (The top button immediately adjacent to them) is somewhat of a hit and miss but still doable with minimal shifting of your grip / discomfort.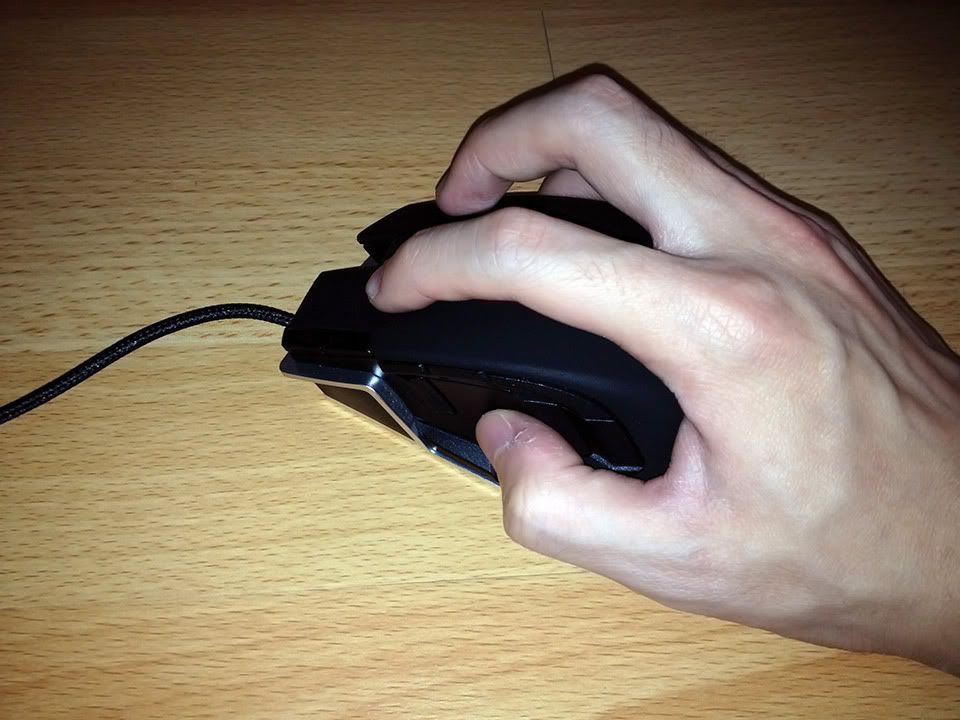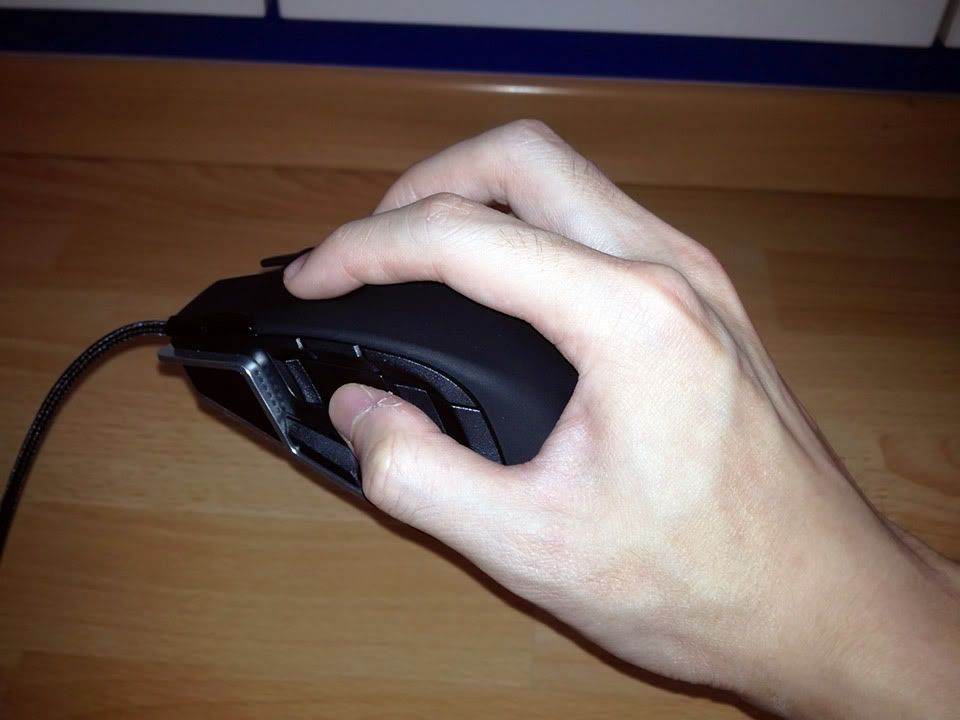 The reverse is true upon switching to a Claw grip. My thumb now aligns closer to the large back button (15) rather than filling the middle empty space, leaving the front most buttons unreachable without shifting my grip slightly. In this grip, I have problems reaching the following: The default Sniper function button (14) requires you to stretch your thumb forward slightly and potentially compromise your grip. Buttons 7 and 8 (The 2 top, forward-most place buttons) are also relatively harder to use without actually adjusting your grip to reach forward with your thumb. Button 12 is sort of a hit and miss in this grip despite being a back-placed button because it just feels 'awkward' to press.
Another thing I'm not too crazy about is the scroll wheel. It IS touted as a high mass scroll wheel and it DOES feel great; but it's something else altogether in practicality's sense when the amount of force required to scroll is significantly higher than pretty much all other mice I've tried. I would favor fluidity and ease over mass and precision here. It would certainly require getting used to; but over time the scroll wheel should 'loosen' up and you will gradually find it easier.
That being said however, I must mention that I am not completely sure if the extra force required I to scroll that I experienced was indeed by design, or a manufacturing batch flaw. My first M90 died (via a BETA software… I advise to use only factory releases) and I got a replacement, and my replacement scrolls
WONDERFULLY
. Same high mass scroll wheel, same feel, but different
SCROLLING
feel. Extremely easy and fluid compared to my first M90 and it very much shocked me and I am very pleased with how my replacement M90 scrolls. Would probably need an official word from Corsair to clarify this though!
I was absolutely satisfied and have no complaints about the M90's gaming performance. Call it near flawless. Thanks to the Avango laser and the M90's design, I found it to be VERY smooth, accurate, and overall just felt superb. It also features what other gaming mice boast such as configurable multiple DPI settings, lift detection, and surface tracking. The mouse's ergonomic countour feels extremely comfortable and I didn't feel fatigued at all after long gaming sessions.
It takes some getting used to, but the M90 really shines when playing RTS / MMO games such as Starcraft 2. The possibilities of mapping the Macro keys are all up to you: You can map hard to reach control groups to the buttons for easier recall, map certain keys to execute commands easily and accurately, or a chain of commands (such as building a supply depot so you don't have to press 'B' and then 'S'; instead it can be done quickly with the push of a button!) You probably won't find the harder to reach buttons usable in this fast-paced RTS game though!
Although the M90 is touted to work best for RTS and MMORPGs, I could not help but wonder how it fares in FPS. (I mean, come on it STILL features Sniper functionality like the M60 does!) So, I still fired up Battlefield 3. No issues in performance here either! I could aim down enemies with ease and still maintain accurate control of the crosshairs. The sniper button does come in extremely handy too, and if you find the default button too hard to reach, you can assign the Sniper functionality to any button of your choice! (Button 15 in my case.. And it was super easy to press) If however you aren't a fan of having too many buttons surrounding your thumb or need something more simple and light, then maybe Corsair's M60 would suit you better! It is after all FPS optimized and provides even better fluidity and precision with its overall design.
A flaw which I found with the M90 while gaming is – no surprise here – the relative useability problems of the macro side buttons. Yes; objectively they ARE sensibly placed; however in a real world gaming situation, it is difficult to fully utilize ALL the buttons effectively without shifting your grip to reach certain buttons as mentioned in the previous section. This is undesirable because you want to avoid even the slightest of extra, unwanted mouse movements at times in a game. Depending on what grip you use, some buttons become impractical to use in fast-paced situations. Also, while I found the button stiffness alright in general, Corsair has intentionally made them to be not too easy to press in order to prevent accidental actuation. Buttons can also be perceived to be considerably stiffer to press depending on where your thumb is placed on how you press on them.
That being said, they might not be as 'unusable' as I make it out to be should your games be slower paced and not require a lot of mouse movement control while you reach for the macro buttons to press; and this should probably be the case for most MMORPGs and RTS games that the M90 is touted to work best for. (Although I can't say the same for Starcraft 2 which is an extremely fast paced RTS game!) You still end up with a couple of useable buttons anyhow; so you can perhaps find other functions for those buttons you find hard to reach in game, such as assigning profile changing functions or Forward / Back!
To sum up, the M90 just felt superb. If you are looking for a top grade mouse specially for MMO / RTS gaming, look no further.

The images below are courtesy of Corsair; and they fully explain at a glance all of the M90 Software's functions. As of this review, the software version is 2.12.


SUMMARY: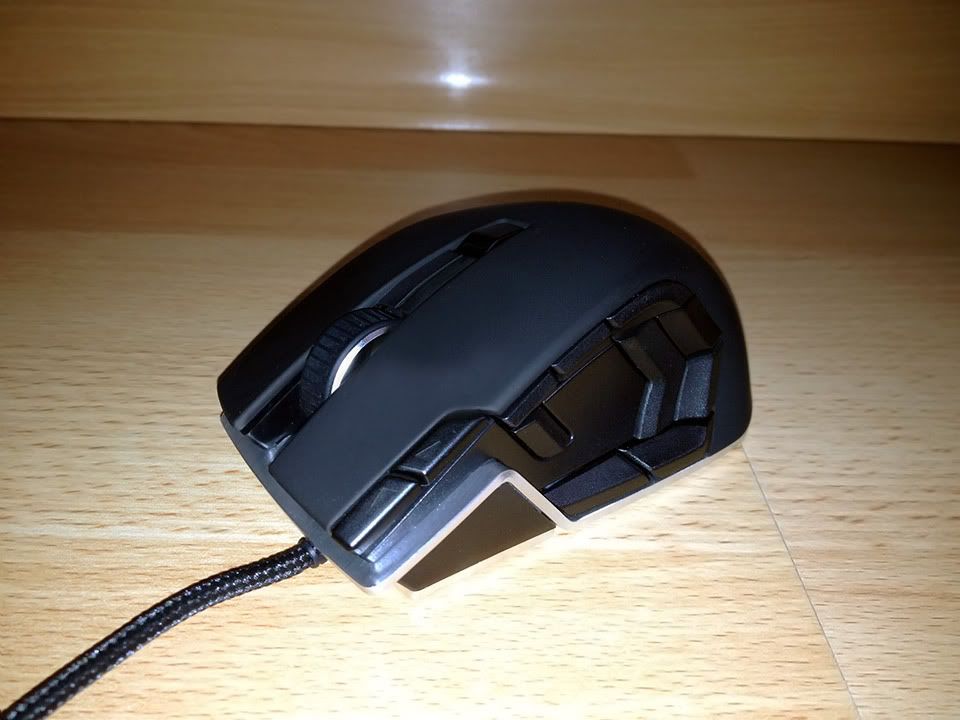 In terms of strictly build quality and general performance (excluding macros and software), the M90 is close to perfect. I kid you not when I say the M90's quality is unrivaled. The mouse is built VERY solid and feels plain AWESOME. The laser and mouse in combination are very precise and smooth in their gaming performance as well. The M90 is a worthy contender if you play MMORPGs and RTS games. However, if you do not like the idea of your thumb resting in between the swathe of buttons OR prefer FPS games, then perhaps the M60 would be a better option for you!
The only complaints I really have are probably that perhaps there are a tad too many Macro side buttons. If Corsair could possibly reduce the total number of buttons but improve their positioning, (they could probably learn a thing or 2 from Razer's Naga Hex!) it would make for a really killer combination! That, as well as Corsair's current software not having the same level of advanced Macro programmability and flexibility offered by other gaming mice software. However, it is currently more or less stable and it should only get better; so we shall see!
To conclude, here are the pros and cons:


EDWARD SCISSORHANDS:
- EXCELLENT gaming performance; mouse works and tracks very well.
- Beautiful design, astounding premium quality with single-piece aluminium chassis
- High mass scroll wheel feels luxurious and yet scrolls fluidly
- Actuation forces required for buttons are more or less spot on (provided you press them 'correctly')
- Smooth texture finish on the top surface of the mouse is extremely pleasant
- Ergonomic design allows comfort even with prolonged usage
- Aggressively priced for its level of quality and functionality
EDWARD CULLEN:
- Relatively heavy mouse weight requires getting used to
- Macro side buttons need to be improved overall in terms of placement and stiffness. Perhaps reducing the no. of buttons would prove useful; making them bigger and easier to reach and press.
- Possible batch manufacturing issues resulting in some mice having stiffer than usual buttons and very heavy scroll wheels
- Software has room for improvement
OVERALL SCORE: 9.5/10. The M90 is a real beauty that can bring the pain, and should definitely be on your shortlist if you are looking for an MMO / RTS optimized mouse! Probably the biggest factor hindering me giving the M90 a 10/10 is the bundled software. While mostly stable now, it still lacks certain functionalities offered by other gaming mice, and this is quite a bummer since the M90 is unrivaled in terms of its build quality and gaming performance. In addition, the Macro side buttons could be somewhat improved; although you still end up with a couple usable ones!
You can pick one up at your local IT shops at an SRP of $129, and is distributed locally by Convergent Systems with a 2 year limited warranty!