I'll be taking a look at the spanking new Vengeance 1500 from Corsair! Building on the success from their HS1 series, the Vengeance series from Corsair are based on a new, improved design that boasts better 50mm drivers. The 1500 is the Digital version (with the 1300 being Analog) with built-in Dolby 7.1 multi-channel audio touted for intensive, immersive gaming. Let's find out how it fares!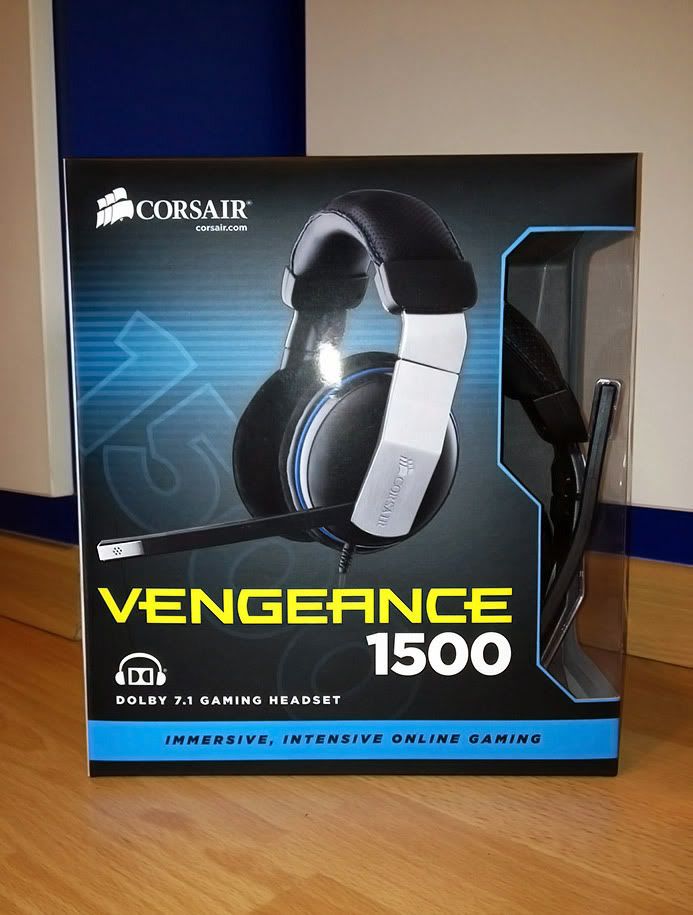 Product specifications:
·
Frequency Response: 20Hz to 20kHz
·
Impedance: 32 Ohms @ 1kHz
·
Dynamic Range: 95dB (A-weighted)
·
USB power consumption: 250mW
·
Type: Unidirectional noise-cancelling condenser with adjustable, rotating boom
·
Frequency Response: 100Hz to 10kHz
·
Sensitivity: -44dB (+/-3dB
)
FIRST IMPRESSIONS & UNBOXING: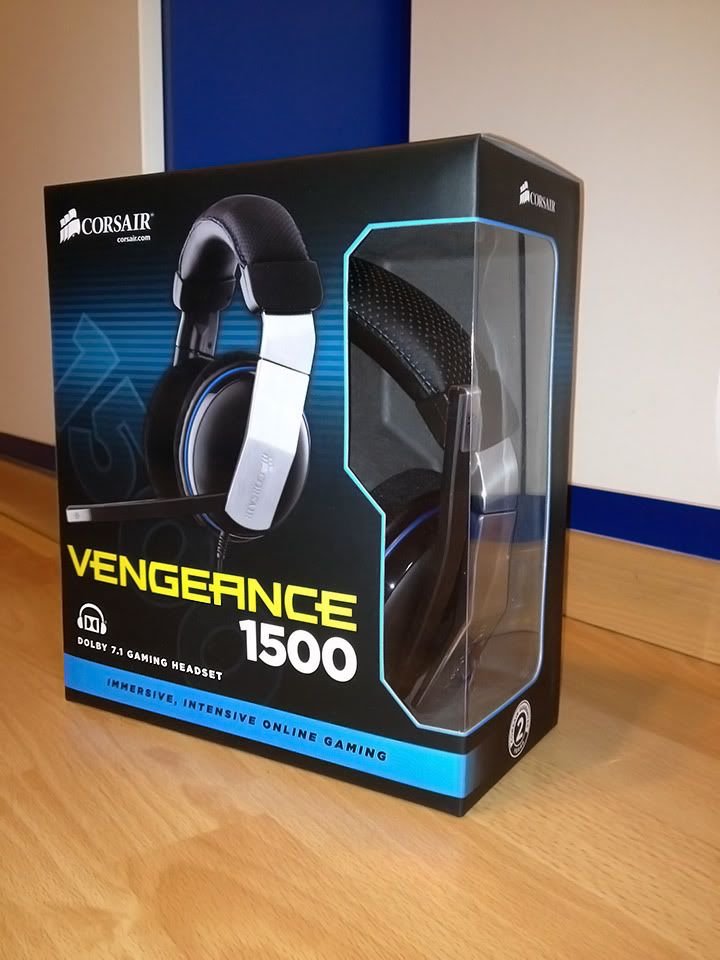 Corsair knows how to make a statement; and their Vengeance headphones are no exception. The 1500 comes with a sweet looking box with a side window that lets you have a glimpse of the headphone itself.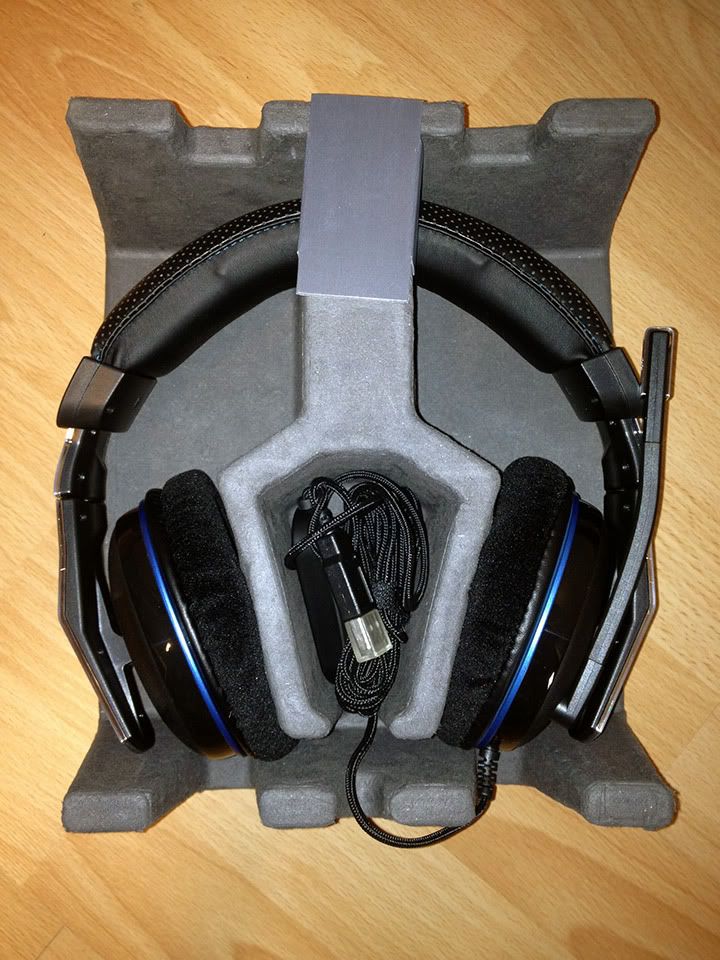 Once again, Corsair just delightfully surprised me with the strikingly simple unboxing process. Simply slide the cardboard holder out, remove a paper cover at the top, and then pull out the headphones from the holder. It was that idiot-proof and fuss-free.
BUILD QUALITY AND AESTHETICS: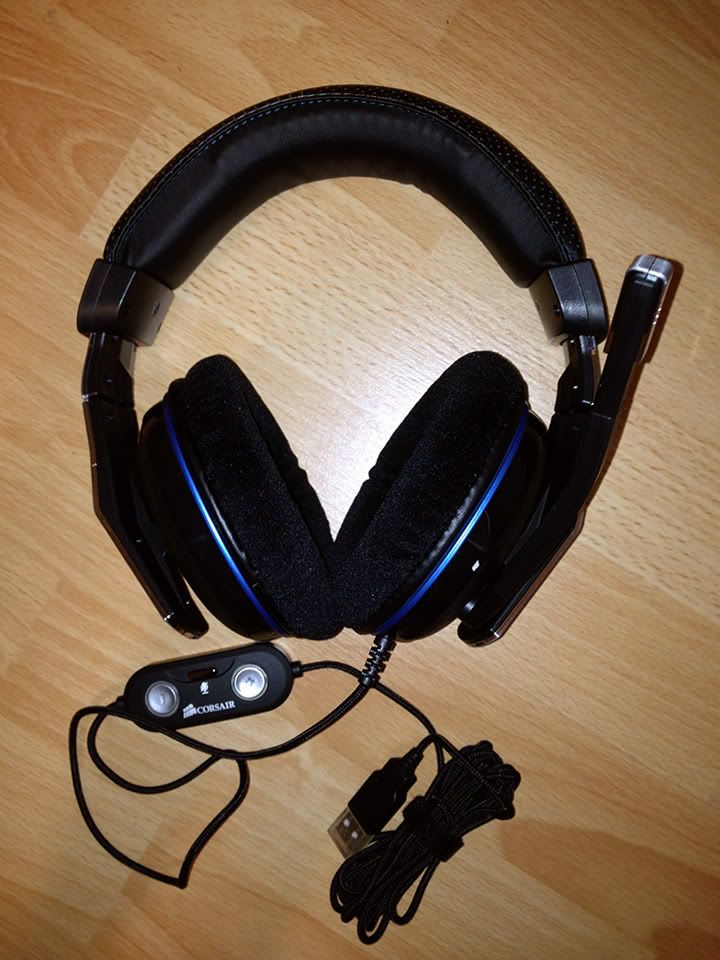 The Vengeance 1500 is definitely a looker. The entire mix of matte plastic finishes, metallic accents, glossy highlights, and the blue ring highlight around the earcups makes for a very well thought out aesthetic design.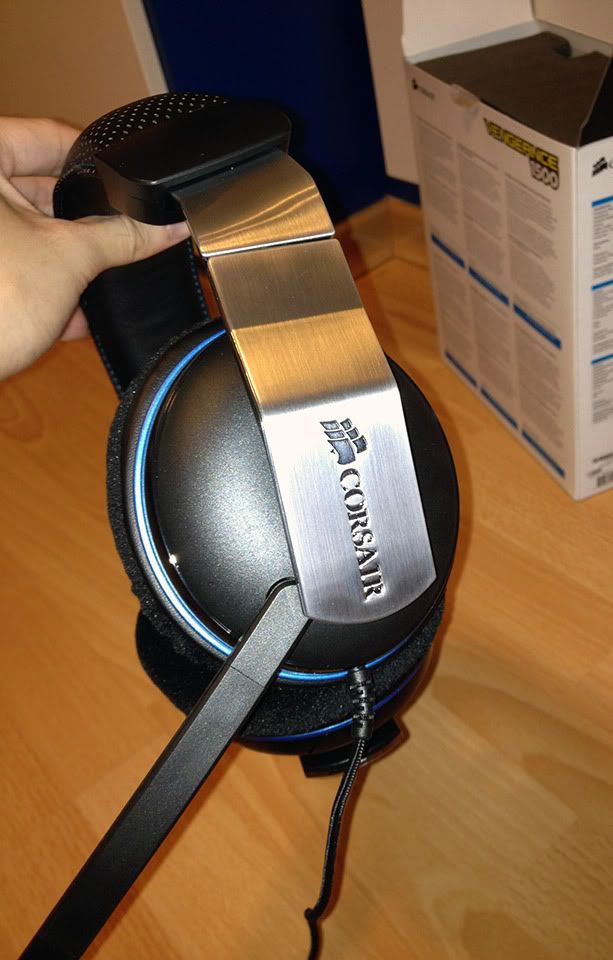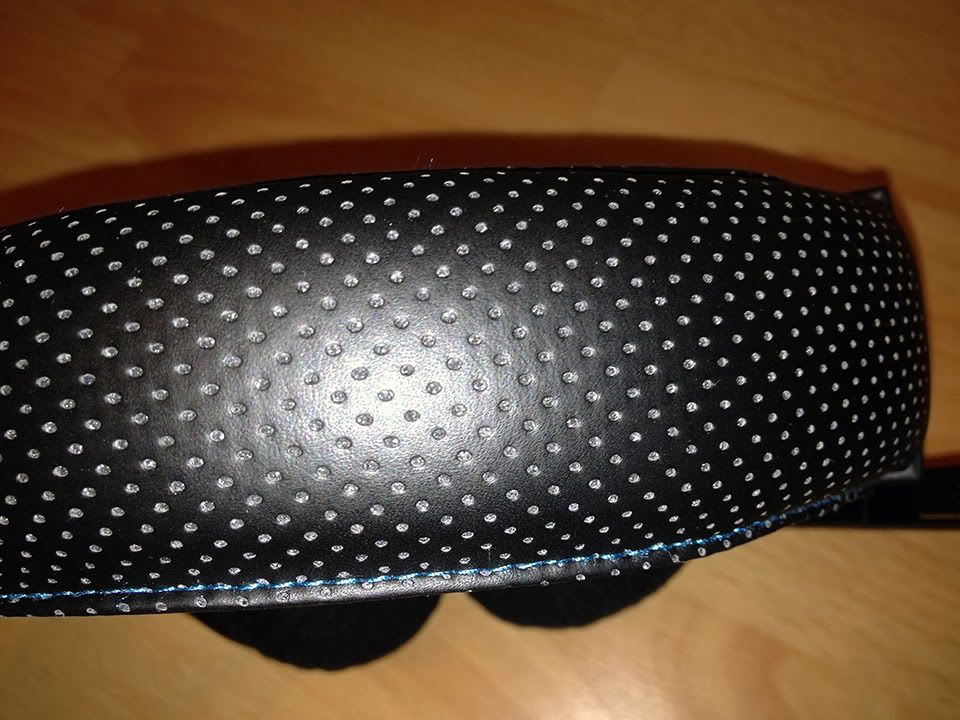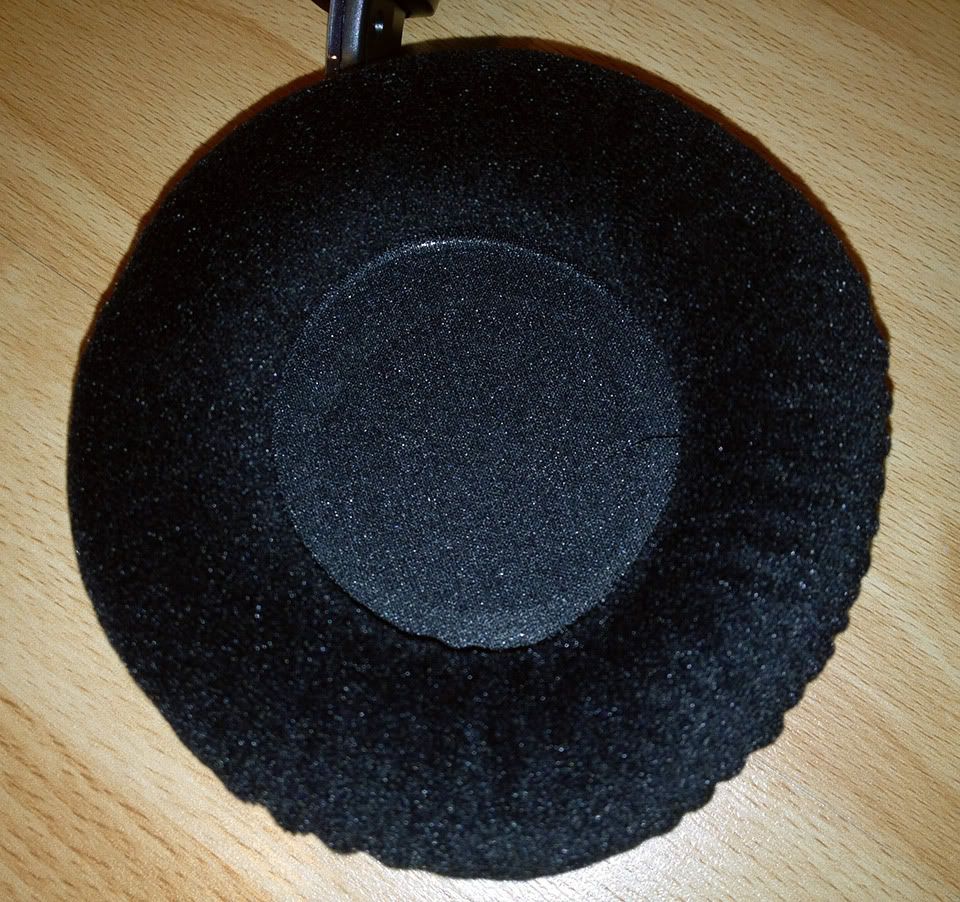 The build quality of the 1500 is great and by no means flimsy. A hard plastic frame provides the foundation of its structure for both the headbands and earcups. The headband is padded with foam, while the earcups are lined with a soft fabric finish housing denser memory foam. Overall, it is pretty comfortable to wear.
Make sure you adjust the headband height to the most comfortable fit to reduce the pressure on your head. The earcups completely surrounded my ears; albeit being a tight fit. This prevented the earcups from pressing on my ears and hence helps with extended usage. However, I found myself sweating around my ears and had to let that area 'breathe' after about 2 hours; probably due to the dense nature of the memory foam. The synthetic fabric finish on the earpads also gets kind of itchy after a while.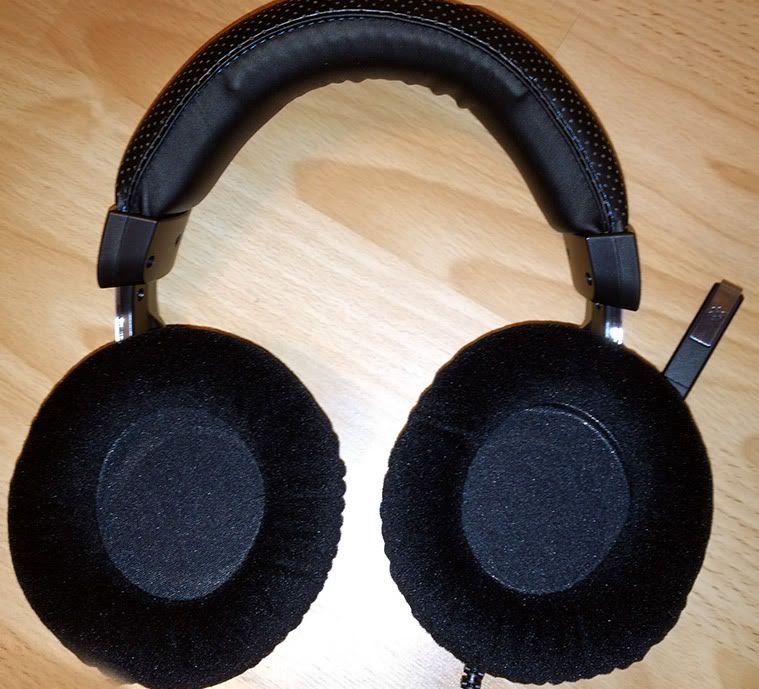 The earcups are rotatable by 90 degrees, allowing you to place them on a flat surface and let the earcup area to "air".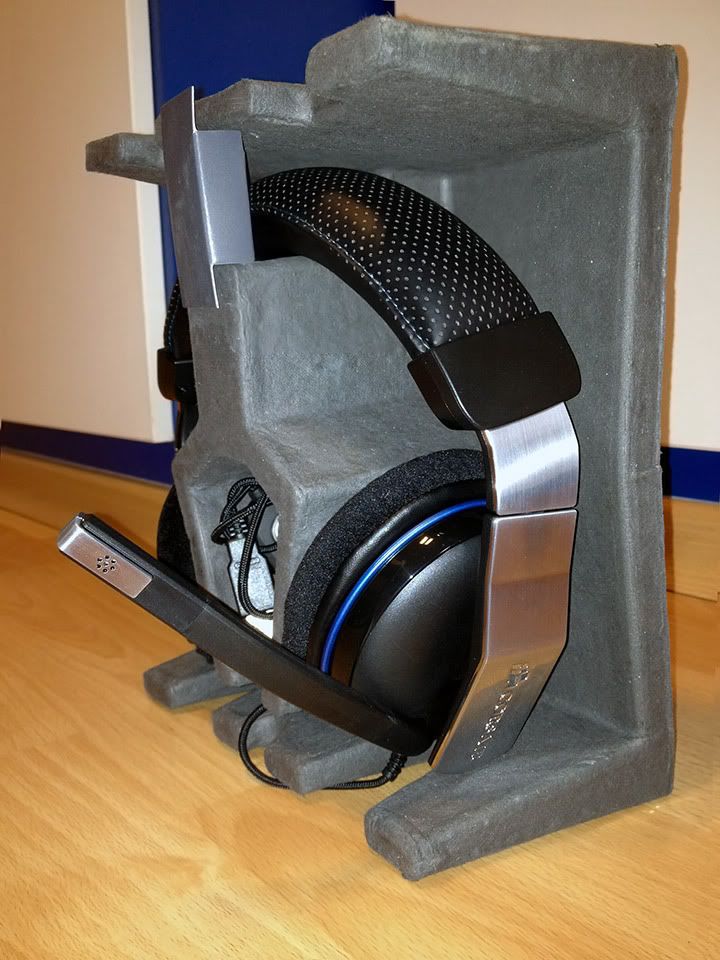 The microphone is sturdy yet slightly flexible, and also is able to swivel up to about 130 degrees from its upright storage position.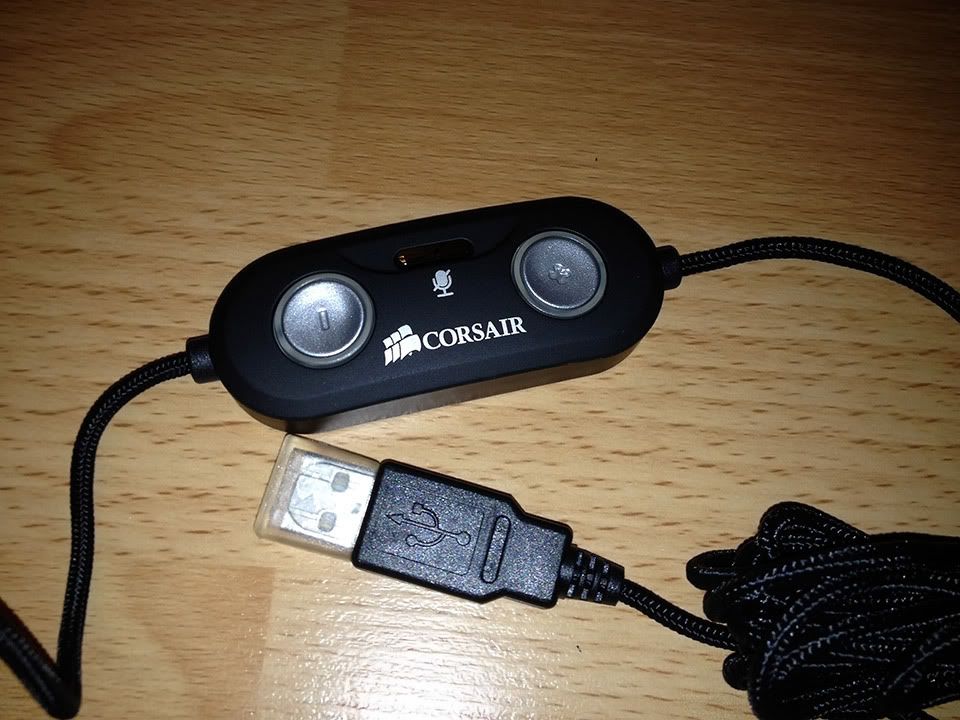 The USB cord runs 3m long and also has an in-line volume and mic controller positioned sensibly from the 1500 termination point. It's generally easy to reach but not adjustable. A cable management velco strap and USB protection cover complete the package.
First and foremost, please do yourself a favor and install the latest 1500 headset drivers which can be found on Corsair's website or support forums. Not only are they certainly required for stable operation and the best audio quality, the included software suite also gives you EQ controls and the Dolby 7.1 Headphone settings which you can customize to deliver the best audio quality for yourself.
The latest drivers seem to be more or less stable and I experienced no dropouts or problems whatsoever throughout my entire time of testing.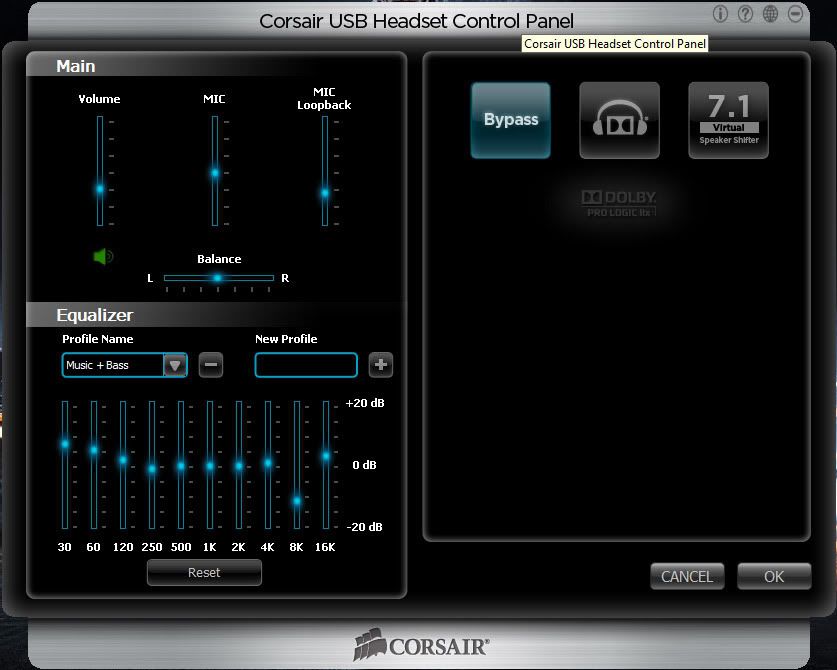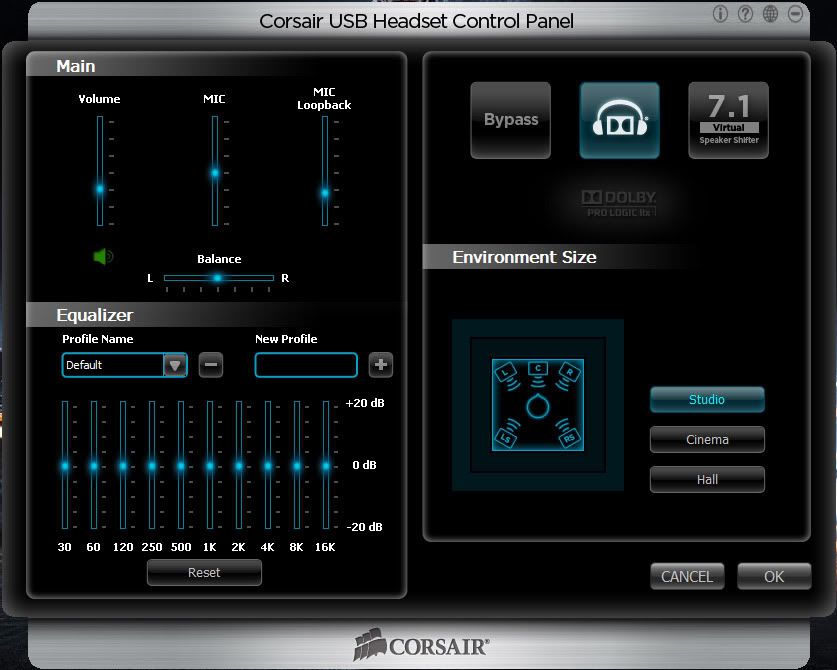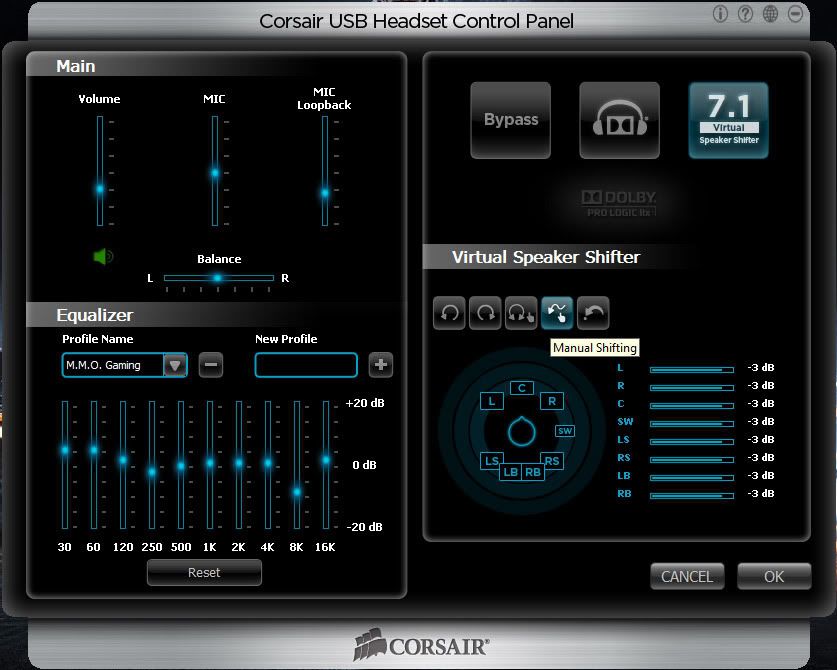 Corsair's revamped C-Media software user interface looks really great; clean and simple, and it also follows the aesthetic feel of its other vengeance peripherals (M60, K90, etc.).
The Main panel allows you to control the headphone, mic, and mic loopback (to test the microphone by hearing yourself over the 1500) volumes as well as tweak the L-R balance. Below is the EQ which comes with a couple of presets including "Music + Bass", "Music reference", "FPS", and "MMO". You can also create and customize your own EQ profile for a sound that best suits your personal requirements.
On the right hand side you will find the Dolby 7.1 controls. "Bypass" deactivates any additional Dolby processing, whereas the middle button activates it and gives you control to what I assume is a virtual reverb. 3 presets are provided: Studio, Cinema, and Hall. Do note that activating this does alter the overall sound quality based on the setting selected. The 3rd "7.1 virtual shifter" button allows you to adjust the virtual 7.1 positioning as well as tweak their respective volumes. What I find really nice is just how flexible the software is in configuring the 7.1 positioning. You get a total of 5 options on how you want to tweak the virtual 7.1 surround.
Crunch time? Well; not quite. Now, let me make a disclaimer that audio quality and what music "should sound like" is very subjective. My advice which I will continue to give is that the only way you can make the best informed decision is if you actually listen to the headphones for yourself before making a final judgment. I can give you a rough idea of what to expect; but don't take my word completely for it either.

Also, I currently use audio equipment costing WAY over the Vengeance 1500's price tag. My standards for music are hence going to be stricter than average, but I WILL factor in the fact that the 1500s costs just over $100. Again, don't take my word completely for it because I am pitting the 1500s against stuff WAY out of its league.
Being a fully digital pair of headphones, the Vengeance 1500 gets its audio quality from C-Media's 6302 USB chipset. While not exactly anything ideal for audio aficionados, it does support Dolby Digital 7.1, a HUGE factor for gamers looking for immersive audio and accurate 3D positioning.
Now the 1500 is NOT advertised as a pair of cans for music listening, but I found it handled music tracks fairly reasonably. Pop / RnB tracks were clear and intricate musical arrangements did not get 'lost' in translation as is the case with most consumer earphones. A favourite testing track I use is Enrique Iglesias' "Tired of being sorry", and the 1500 held up to the song remarkably. Instrumental tracks also had an even balance of sonic reproduction. Vocals in general were clear and had presence; but maybe too much; more of which I will elaborate on in the following paragraph.
I foresee many people who will complain about a "lack of bass" with the 1500s. I would like to point out that there is certainly no lack of bass here. I believe it's because we have become so accustomed to artificially boosted bass in almost every application you can think of… stores, clubs, movies, etc. such that the NORMAL level of bass becomes abnormal. If your bass preference requires a full sound which you can feel in your body and head throbbing, then yes, you are going to be disappointed. However, if your need for bass isn't that high, the 1500s does include EQ to help boost the bass to more 'acceptable' levels. Personally, I found the default bass levels alright; but the "Music + Bass" EQ setting sounded the best to me for music listening.
Having said that, what I really didn't like about the 1500s was that it does have a higher than normal reproduction of 'High Mid' and 'Presence' frequencies (~3Khz – 6Khz). This is probably why vocals sounded very clear to an extent that the singer seems 'present' with you. However, most disruptive to me was the 4Khz range. This made certain sounds and instruments such as snare drums painful to the ear when the volume was turned too loud, and caused listening fatigue. A good example of where I found this rampant was in Selena Gomez's "Love you like a love song". The percussion as well as her VOICE were particularly hard to listen to without turning down the 4Khz EQ. It got much better after doing so.
If you were to ask me if the 1500s sound similar to its Analog brother the Vengeance 1300, I would say no. Certain frequencies are clearly coloured more strongly and with the 1500s I perceive a narrower sonic imaging. However, I would solely attribute it to the C-Media's 6302 chipset. It would not make sense to me that both headphones have different kinds of driver designs. If the 1500 were able to have analog support, I would think it will sound exactly the same as the 1300s.
To close this section, do factor in once again that the 1500 headset was made primarily for gaming; so don't let the music portion put you off too much. It sounded OK to me but a reminder again that I am not giving a fair comparison price-for-price.
Crunch time!! I guess this is where the 1500 should really shine, and it does exactly what its highlighted to do: Immerse. The digital nature of the headset plus the software suite that comes with it provide you with customization options that you should really take full advantage of and get the most out of these headphones.
I fired off Battlefield 3 and used the FPS EQ preset. This is probably an instance where having a 'flat' response headphones will not be as good as one that colours particular frequencies more than others. The 1500s certainly provided the extra Oomph much like watching an action movie and I really found myself sucked into the game realm greater than usual. Explosions were beautiful, solider commands were clear, and gunshots sharp and loud but not piercing. The virtual 7.1 surround support also works extremely well here. I could easily pinpoint the location of gunshots, aircraft flying overhead, and vehicles sneaking by and it really made me so much more aware of my surroundings compared to using a regular 2.1 speaker setup. Simply put: Wonderful!
Point to note, however, is that the 1500 is not a "true" 7.1 solution as it does not have individual drivers / speakers delivering the sound for and from each position. The only way you are going to get the *most* precise 7.1 surround experience is with a regular 7.1 speaker set up or with a pair of headphones that are natively 7.1 in nature. However, such a setup is going to set you back WAY more than the Vengeance 1500, and I find that the virtual 7.1 surround support did the job pretty well already.
In all, I was very satisfied with its gaming performance and it does what it's supposed to do and at a VERY affordable price. You will not be disappointed with the 1500's sound quality in games!
AUDIO TESTING (MICROPHONE):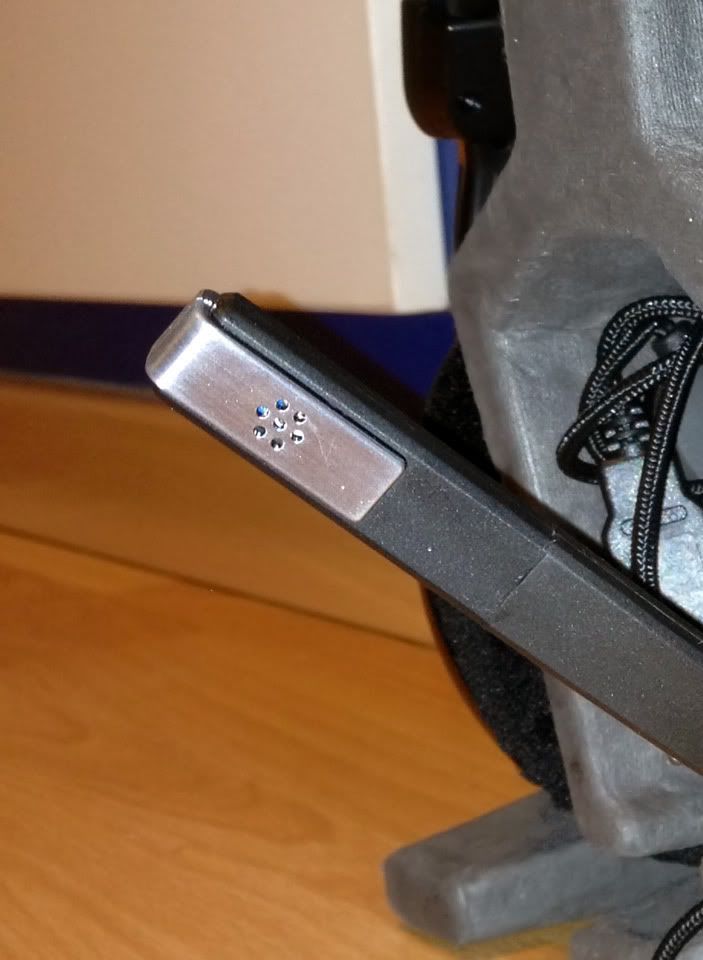 The 1500's mic quality is great. Its noise cancelling feature makes sure your voice is clear over any background ruckus present. Previously, I had been using a Microsoft HD5000's built in microphone for voice communications, but it picked up ambient noise too easily and amplified volumes unnecessarily to the point that my teammates keep telling me to fix my mic. This however was completely not the case using the 1500.
Below are 2 sample audio clips; first with the 1500 mic, and the other with a Microsoft HD5000 Webcam's mic, showcasing the difference in audio quality and noise cancellation: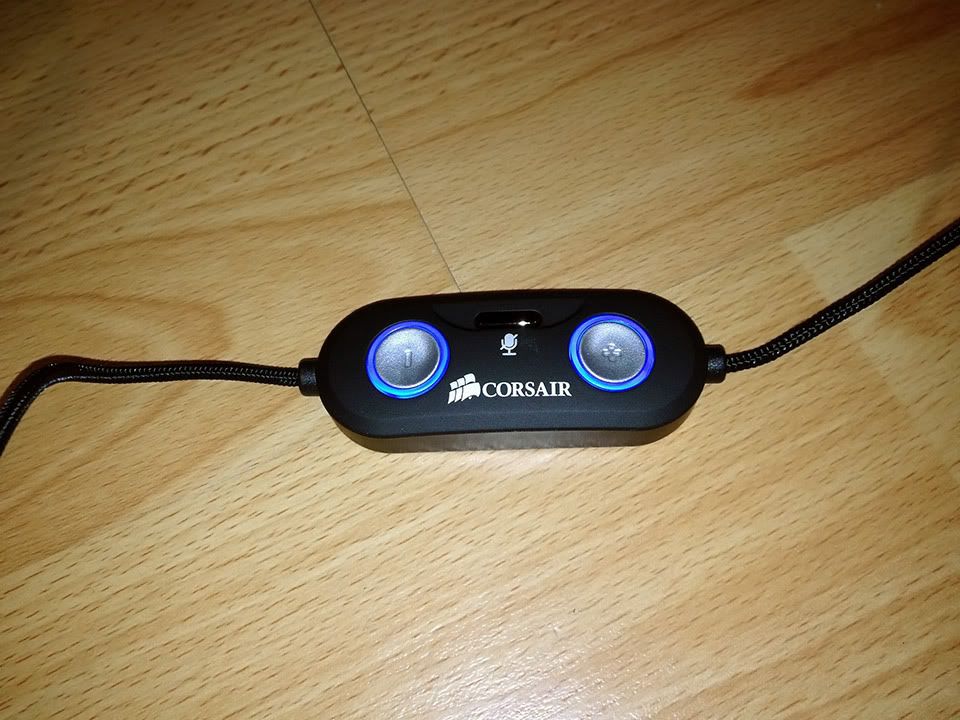 You can also toggle mic Mute / Unmute from the inline controller. The LEDs around the volume buttons glow red when the mic is muted; otherwise they glow blue.
CONCLUSION: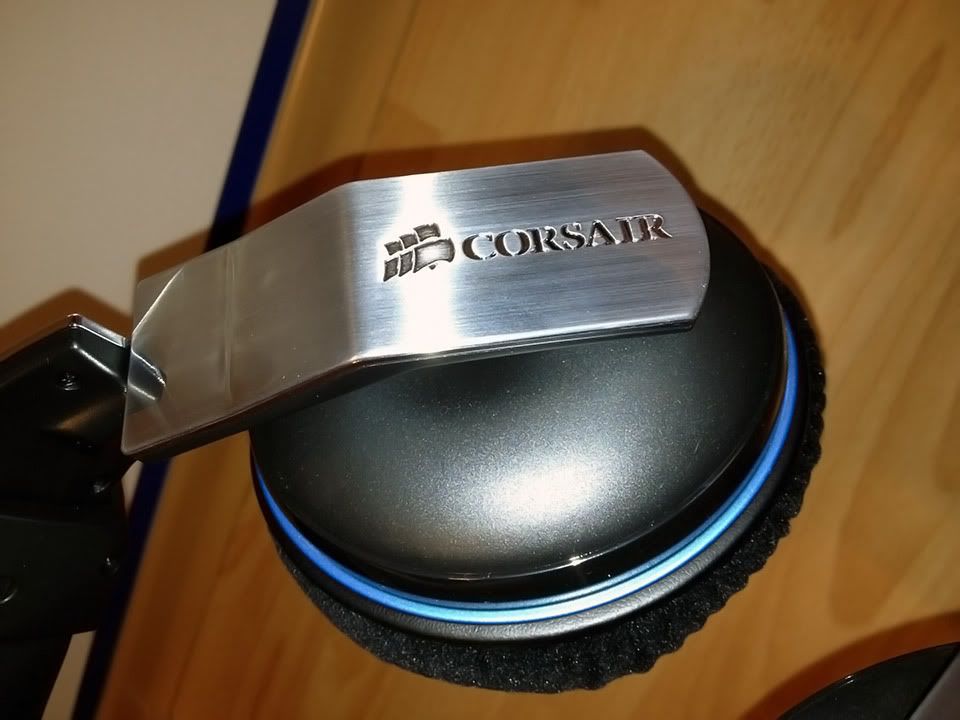 The Vengeance 1500 offers gamers a unique digital headphone solution that requires no sound card to get up and running; and at the same time gamers do not need to worry about having a sub-par sound card that would degrade their audio chain. This would be an excellent choice in such a situation where your budget is tight but you still want a decent quality pair of headphones. Another plus is that they are virtually going to sound the same on ANY system (drivers installed of course). If, however you ALREADY have a high end sound card, then you would want to consider the Vengeance 1300 instead, which is the Analog version capable of fully utilizing the quality of your sound card.
Overall, the 1500 sounds good for the price, and when you factor in the additional value you get with the in-built soundcard and bundled Dolby 7.1 virtual surround software with EQ, it makes for a compelling choice if you are looking for a solution that is value for money, yet does not make compromises in its build quality and aesthetic!
In summary,
HOLY HAND GRENADE:


- No soundcard needed; driven by C-Media 6302 chipset with decent audio quality. Excellent solution for people without good sound cards!
- Great overall build quality
- Pleasing aesthetics
- Headband and Earcup memory foam provide a comfortable feel and fit
- Wonderful game sound quality; Immersive and rich.
- Virtual 7.1 support
- Great mic quality with noise cancellation
- Closed-back design allows high degree of noise isolation for uninterrupted gameplay
- Software suite allows high degree of customization (EQ and 7.1 settings) to suit personal preferences
- Sensibly placed volume and mute control
- Aggressive price
DUD MINE:


- Not an all-in-1 solution (I.e. Not capable of both Digital and Analogue outputs) and hence is not capable of "fully realizing its potential"; being limited by its built-in audio converters
- Digital nature of the headphones means you are restricted to using it only on your computer; and unable to take advantage of your higher end sound card if you do own one. Corsair has not completely overlooked this though: They offer the Vengeance 1300 which is Analog and would be the better pick.
- Slightly disappointing sonic staging and music quality; but this is probably due to the C-Media chipset!
- Stock frequency response in the 3Khz - 6Khz range is a tad too much for my liking
- The thick, dense earcup memory foam and synthetic fabric finish does not allow your ears to 'breathe' and you probably need to take breaks between long sessions. Fabric finish also gets slightly itchy
- The headband does exert some amount of pressure; find the loosest fit you possibly can.
- Volume and mute control could perhaps be made adjustable along the cord
OVERALL SCORE: 8/10
. Decent overall product, and should definitely find a place on your shortlist! What Corsair could do to get a 10/10 in my opinion is to provide slightly higher quality foam for the headband and earcups, and allow the 1500s to be powered / have outputs via Analog as well to give users a choice in a true all-in-one high quality gaming headphone solution that would sound great with music too!
You can pick one up at Fuwell, Bell Systems, or Cybermind at an SRP of $139, and is distributed locally by Convergent Systems with a 2 year limited warranty!